Zorczykowski in front of Babylon MMA 36 in Ostrołęka. "Sometimes you have to fall to get your balance back!"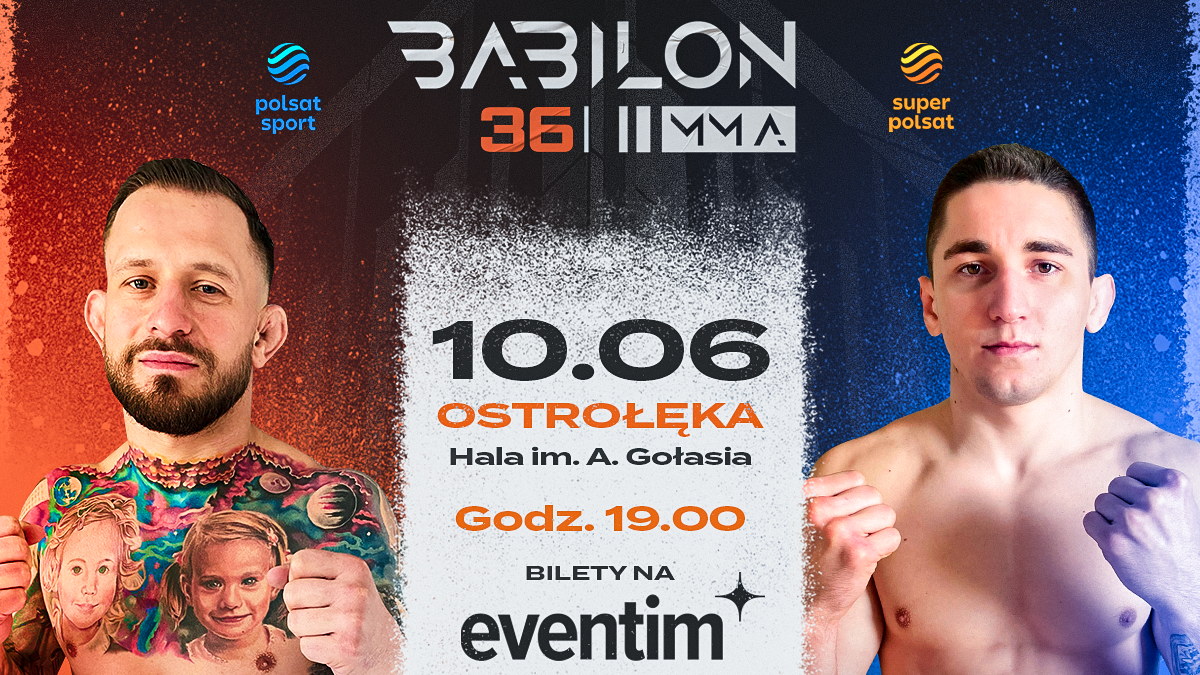 Damian Zorczykowski in front of Babylon MMA 36 in Ostrołęka. "Sometimes you have to fall in order to jump! Nothing can break me, I just keep going"
Damien Zorczykowski, a two-time contender for the Babilon MMA championship belt, returns to the cage after losing to Piotr Kacprzak. On June 10, at the 36th Babylon MMA Festival in Ostroka, "Zordon" will face Camille Rzybuck. Broadcasting on Polsat Group and Polsat Box Go channels. Eventim tickets.
35-year-old Zordon twice in his career had the opportunity to fight for the Babylon MMA title in the category up to 66 kg. In May 2019, at the Babylon MMA 8 ceremony in Pruszków, he had to recognize the superiority of Daniel Rutkowski, and in June last year, at the Babylon MMA 29 in Radom, he lost to Piotr Kacprzak.
See also: Karolina Kowalkiewicz's honest entry! I mentioned speaking to the president of the UFC
– Piotrek turned out to be too strong for me at that moment. It was another fight at the top of this federation in the featherweight category for me. failed in. You fell, but sometimes you have to fall in order to be able to bounce back – says Zorczykowski. – I fought for the highest achievements in my career, which is the dream of many players. It failed, but it didn't break me. I focus on what I like to do, what makes me happy. Now my goal is to win the next fight, and so on step by step.
Although many years have passed since his professional debut in November 2014, Damian Zorczykowski still wants to fight in the cage and take on sporting challenges.
– My career has been nearly a decade? How time passes, I didn't even know it was so long. I don't want to run into the future, I want to live in the here and now and that's what I focus on. You've already planned a lot, you've run a lot, and you know what life is like, how perverse it can be. I focus on the present. I'm not the youngest anymore, but if my health allows, I'll still look in the cage these three years – says the two-time contender for the Babylon MMA title. – Kamel is a versatile competitor, and we had a chance to meet at the Polish Wrestling Championships. I lost then, but now we are fighting in MMA and it will be a different story. I expect a good match. More than 100 people will come from me, and this excites me and motivates me to do more. Thank you fans for your continued support, and I will pay you back in duel! – deduces Zordon's motives.
Babylon MMA 36 fight card:
Professional fights:
MMA 3 x 5 min – 84kg: Adam Laguna (6-2) vs. Joel Quadja (7-10)
MMA 3×5min – 66kg: Damian "Zordon" Zorczykowski (8-6) vs. Kamil Wrzybuck (4-2)
MMA 3 x 5 min – 77 kg: Piotr "Golonidas" Golon (4-1) vs. Karol Bromblik (2-1)
MMA 3 x 5 min – 70 kg: Marcin Skrzek (6-4) vs Szymon Karolczyk (4-3)
MMA 3 x 5 min – 77kg: Dawid Kuczmarski (2-0) vs. Arcadius Kolos (debut)
MMA 3 x 5 min – 120 kg: Przemysław Kowalczyk (debut) vs. Maciej Sieracki (debut)
MMA 3 x 5 min – 66kg: Rafał Gnatkowski (debut) vs. Krystian Nosek (debut)
K1) 3 x 3 min – 86kg: Karol Łasiewicz (3-3) vs Przemysław Tobiasz
Semi Pro Battle:
MMA 3 x 3 min – 77 kg: Dominik Greda vs Wojtek Wocial
press release