Weather collapse three waves of heavy rain. "The situation could be very dangerous."
The weather will change dramatically. Everyone will feel cold on Wednesday, and residents of the southern regions will also expect heavy rain. It will fall so much that it can flood. – It looks very dangerous on weather maps – tvnmeteo.pl presenter Tomasz Wasilewski said on TVN24.
Poland is under the influence of low pressure systems over southern Scandinavia and northern Italy. The associated atmospheric front will bring successive waves of heavy rain in the south of our country every several hours, according to tvnmeteo.pl Arleta Unton-Pyziołek. In 48 hours the total precipitation can reach about 100 liters per square metre, especially in the mountains, which is half the amount of rain that usually falls throughout July.
– Mountain rivers and streams react very quickly to such rains, that is, they can suddenly swell and cause local floods. In addition to the fact that it will be heavy and continuous rain (…) with breaks lasting more than a day, there will also be storm clouds embedded in this rain area. (…]Then there is the risk of periodic flooding or localized flooding – warned Thomas Wasilewski on TVN24. "It looks very scary on the weather maps," he said.
Summer will stop for a day.
The tvnmeteo.pl presenter also added, "It seems that the first wave of rain is still moderate, and it will be worse at night and the third wave will be tomorrow afternoon." – Until tomorrow (Wednesday – ed.) And until the evening, the situation in the south can sometimes be very dangerous due to heavy rains, – he noted.
In addition to heavy rains, cold air will flow into Poland. It will be much cooler than the last few days. – Summer will slow us down for a day – Wasilewski summed up.
Rainy and cold weather on Wednesday
On Wednesday the weather will be cloudy with showers. It should not rain in the northeast, in other regions there will be periods of precipitation in the range of 5-20 liters of water per square meter, in the mountains up to 50 liters / square meter. In the southeast is also possible storms. The maximum temperature varies between 16°C in Upper Silesia, 18°C ​​in the center of the country, and 22°C in Podlasie. Winds blow from the north, weakly and moderately, in the east sometimes with great force, during severe storms, with gusts accelerating to 70-90 kilometers per hour.

Thursday promises to be cloudy with clearing. In the Lublin and Podkarpacie regions, occasional precipitation of up to 5 l / m2 falls. Thermometers will show a maximum of 20°C in the Suwałki region, through 22°C in the central regions, to 24°C in Lower Silesia. The winds will be westerly, light to moderate in speed.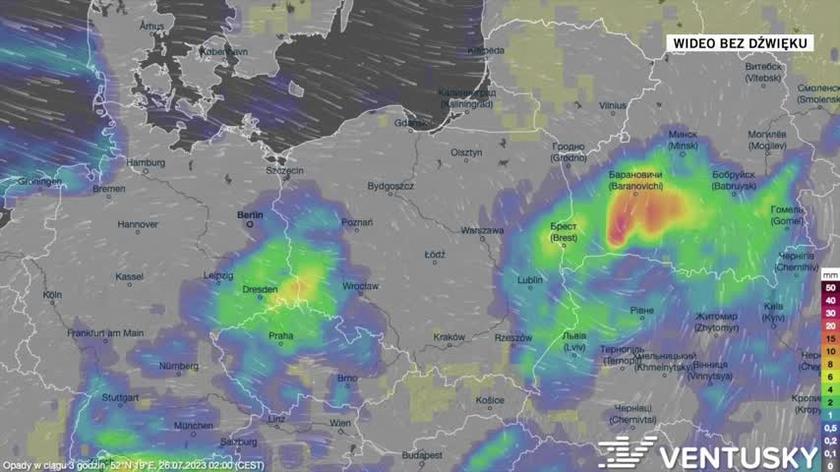 Warmer than Friday, but showers and thunderstorms are possible
The next day, warmer air of tropical origin will begin flowing into Poland from the southeast, where storm clouds will develop. However, the next moderate active fronts moving over the country will sweep through the hot air, attempting to push the polar masses inland from the west, the forecaster announced.

Friday will bring moderate to heavy clouds. Except for eastern Poland, it will rain up to 5-20 l / m2 everywhere, and it will rain in the west as well. The maximum temperature will reach from 23°C in Pomerania and Podkarbasi, through 24°C in the center of the country, to 26°C in Lower Silesia. Weak, moderate southwesterly winds blowing, with a speed of up to 80 km/hr.
Weather forecast for the weekend
Saturday will be partly cloudy and moderately cloudy. There will be showers of up to 5-20 liters / square meter, and there will also be thunderstorms with hail in the east, south and center of the country. On the thermometers we will see a maximum of 24 ° C in Pomerania, through 26 ° C in the center, to 29 ° C in Podkarbasi. There will be strong, weak and moderate westerly winds during storms, with winds reaching speeds of 70-90 km/h.
It will appear in northeastern Poland on Sunday. In other regions it will be cloudy with precipitation of 5-25 L/sqm. Thunderstorms with hail are also likely in the east and center of the country. The maximum temperature will be from 22°C in Podkarbasi, through 25°C in the central regions, to 26°C in Podlassi. Winds will be northwesterly, light to moderate in speed, with periods of strong and thunderstorms.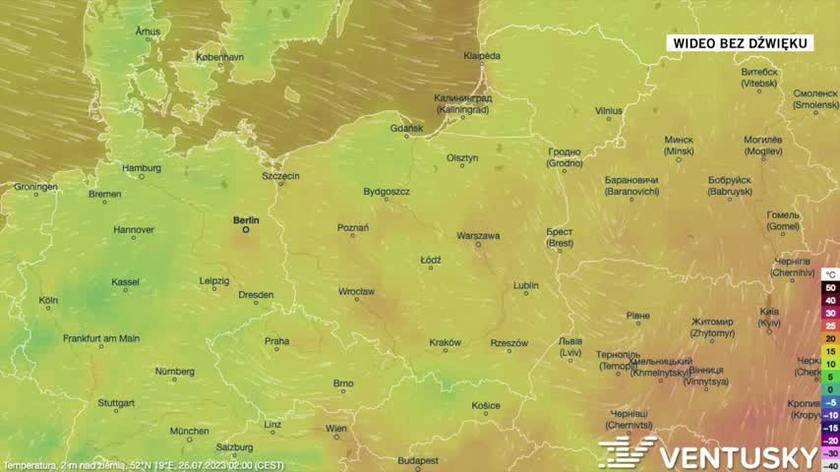 Main image source: Shutterstock/Ventosky