The Russians referred to the "five ungrateful". Krychowiak was called a "thief"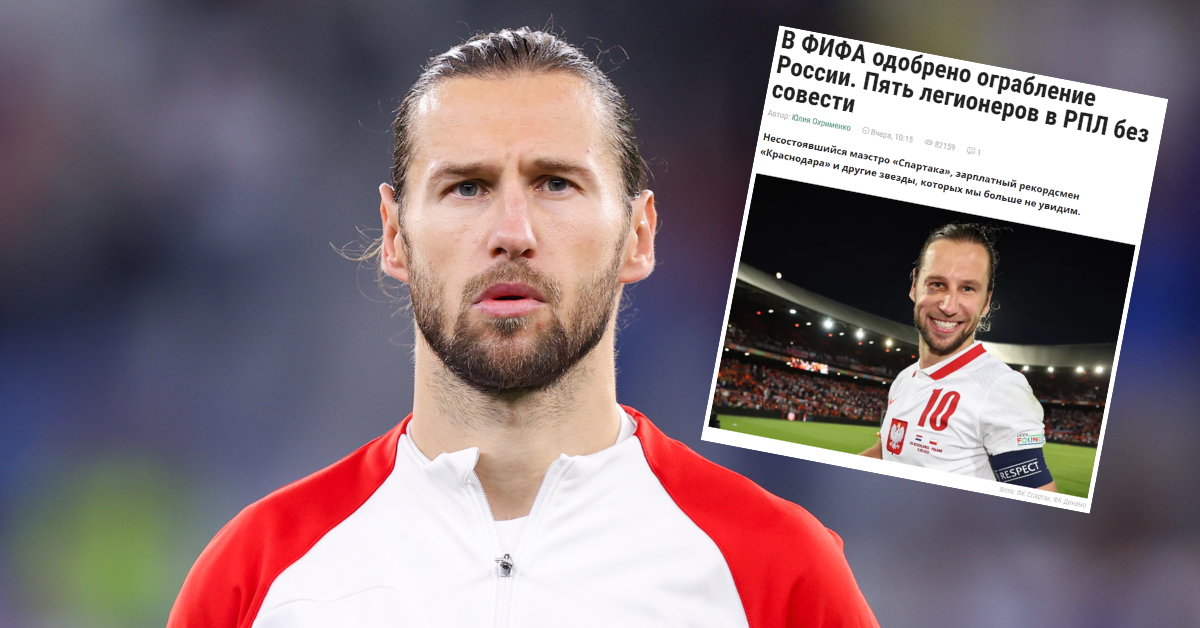 The Russians have been targeting Grzegorz Krychowiak for a long time. He was accused of causing a mutiny of foreigners in the Krasnodar club. They even called him "The Rat". According to reports from Russia, the Polish representative was also supposed to persuade other foreign players in his club to leave the team. Just recently, his former club mate, Alex Makukatov argued that this was not true. However, you see, not everyone was convinced.
Football24.ru decorates its article with a smiling photo of Krychowiak. The author of the script, Yulia Okremenko, is very critical of FIFA's decision. According to the decision, the football organization's authorities extended the regulations to allow players and coaches to suspend contracts until June 2024. This could result in Krychowiak never having to return to Russia. "FIFA approves the attack on Russia," – this is how the portal explains the actions of the organization.
"The robbery of the Russian Premier League continues. Many players will automatically extend their contract freeze until the summer of 2024, after which they will become free agents. Clubs will lose a lot of money at this point, and they will not have the right to sell players or receive compensation. Act as an RPL thief? " – Football24.ru asks and answers himself very quickly, because in the first place among the "ungrateful five" Grzegorz Krychowiak is mentioned.
Grzegorz Krychowiak is on Russia's list of shame. "They won't get a dime."
Immediately after the start of the war, Pole went on loan to AEK Athens. He spent just over three months there and switched to the Al-Shabaab movement in Saudi Arabia. In theory, he was supposed to stay there until the end of June 2023, but FIFA's decision will allow him to extend his stay. "Whether Grzegorz regrets it or not, he will most likely return to Krasnodar only in the summer of 2024. The footballer hopes to get a place in the Polish national team before Euro 2024. As a result, his contract with Krasnodar expires in 2024. Krychowiak will become an agent Free and the bulls will not get a penny, "wrote the Russian portal.
Four players followed him: Paraguay's Fabian Balbuena, who left Dynamo Moscow to play for Corinthians. Chidera Ejuke preferred Hertha Berlin to CSKA Moscow. Guillermo Varela also left Dynamo Moscow for Flamengo Rio de Janeiro. Alex Krall closes the list. The Czech did not want to return to Spartak Moscow and play for Schalke Gelsenkirchen.
Creation date: Today 12:27