Suchan about vacation plans and playing in the national team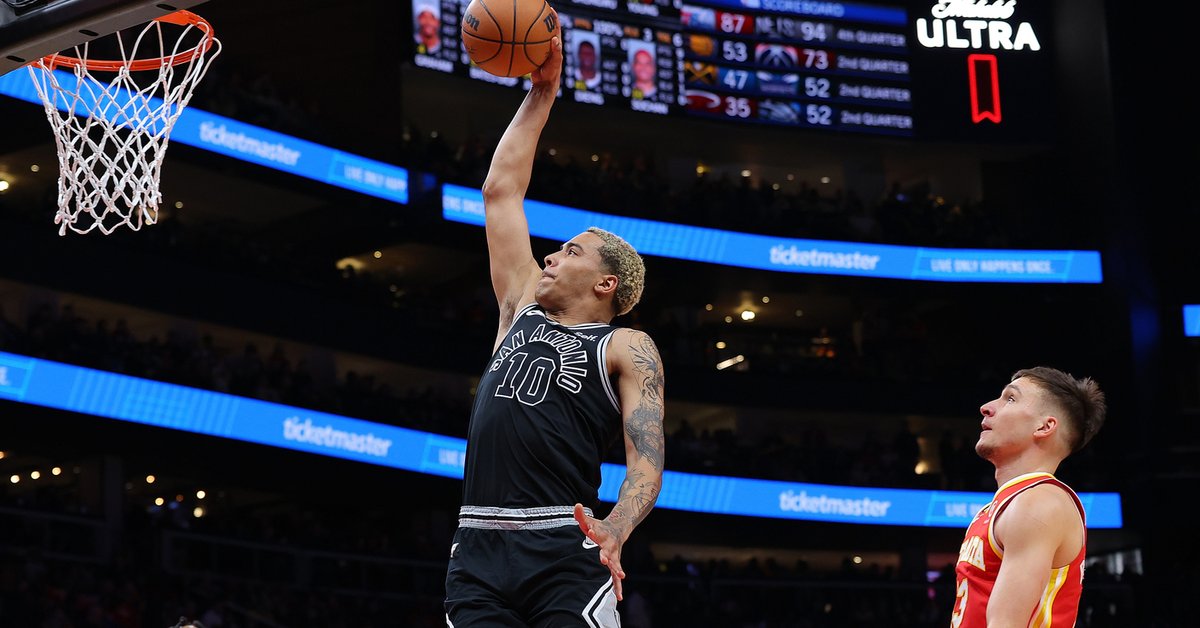 A page from the diary appeared on the page sports news in English. We publish its translation.
Selection to the All-Rookie Team
I was just selected to the second rookie team. It's a great honor for me. So many people have written to congratulate me, and I really appreciate that. At the same time, I feel that individual awards are not as important to me as winning or further development, so it always feels a bit strange. I'm happy with this award, but I'm not very excited. I think to myself: "Thank you, but now is the time to act." Prizes are prizes, but I want to win!
Work began in the off-season
It's very important to stay in shape between seasons, so I train a lot in San Antonio. A typical week for me is two days of training, then a day off, two days of training again, and then the weekend. I usually start training early in the morning and until 12 or 1pm I work on my body and its fitness, but I also watch different videos, talk to coaches, analyze recordings from matches and do individual exercises.
At the moment, one of the most important things I focus on is throwing. I am working on becoming a better and more effective shooter. This is really important to me. As for my throw, I'm not in the business of completely changing my technique or making major changes. It's more about analyzing my throws and looking for improvements in detail.
From improving the end of the shot, the way the ball is held, to the left-handed position, it's all about being more consistent in those little things and repeatability, making more and more shots the same. These are the details that will help me.
The NBA Summer League is approaching and I feel like my ball responsibilities will only increase.
I'm focused on making us stronger as a team. I want to understand where and how everyone wants to play and how important good communication is. Let us all know that this is very important. I just want to improve my game in all possible areas.
Chill out at your leisure
At the end of the season, you think it would be nice to rest. Then that break comes along and you don't realize how much time you have. With fewer commitments, it's more about finding things I enjoy, like going to the movies. Recently, she participated in the movie "Super Mario Bros." And honestly, it was great!
I also like to go to the shops and pick out new plants for my home. Or discover new restaurants in the area. And it's nice to have time for yourself, to relax in your own space, and to listen to music.
After the season, I went to Mexico with my guys. We visited Tulum. The atmosphere was great. The weather was really beautiful, and we visited some 'grottoes' – underwater caverns – and did a lot of different things. We had a great time.
Ever since I got into the NBA, I've realized that a lot of what I do is automatic. I don't have any major travel plans for the rest of the summer yet, but I might go to Milan when the NBPA organizes workshops (training and business meetings) there, so that might be an option. I also have commitments like the NBA Summer League and potential appearances for the Polish National Team.
There will be a few things that I will do, and travel is one of them. You will be spontaneous. I'm sure I'll have a short vacation, but I haven't planned it yet.
The NBA playoffs are different
The playoffs got me hooked and the first thing I noticed is that they are very different from the regular season. It is very noticeable that the game is more physical and everything is more analyzed. When you play with the team six or seven times, they know what you're going to do, they know your plays, so everything is under a microscope. Focus is very important.
One thing I've realized from watching interval training videos is that no one is perfect. Even stars make mistakes or make wrong decisions. Coaches make mistakes too. You might assume that everyone is perfect at this point, but that is not the case. There is a lot to learn from watching the playoffs…
After the first few matches, I fell in love with Kawhi Leonard. The way he played made him the best player in the qualifiers for me. Too bad he was injured.
What fascinates me is a team like the Miami Heat and their mentality. I don't think a lot of people thought the Heat would make it to the eighth team in the conference. I really respect their style and mentality.
They don't necessarily have the best team on paper, but they play tough, they're very physical and they have Jimmy Butler who's an amazing personality. Heat shows that not everything depends on what you have on paper.
I watched the draft drawing and it was amazing! We are all very excited in San Antonio because we have the first choice. We are looking forward to the draft and start working together before next season!