She draws pictures with her mouth to help her mother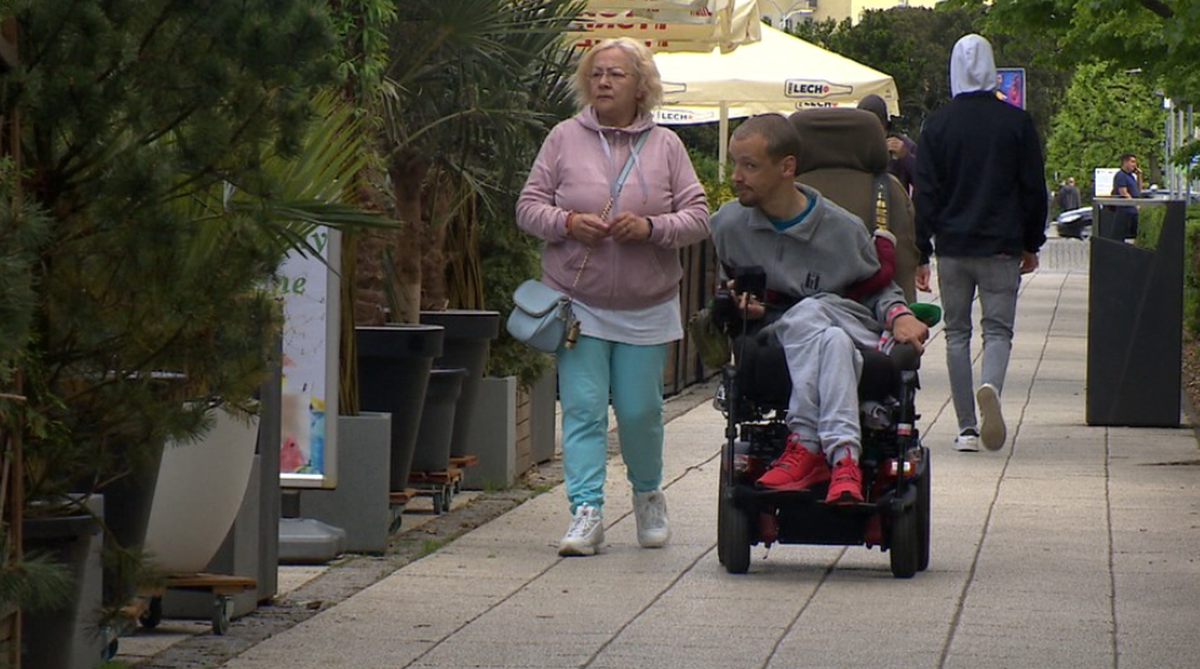 Mr. Adam is 37 years old and lives in Szczecin. The man has suffered from cerebral palsy since birth. Since he cannot work on his own, his mother, Mrs. Grażyna, takes care of him. The woman is 68 years old and a widow.
– This is our hard work, mothers of children with cerebral palsy. As long as he's small, everything's fine, he raises himself up somehow. As soon as the child grows up, unfortunately, the mother also grows up, and she also has to carry it. This is not a peasant who will get to his feet and say: I'm going to bed. He weighs in. Strength comes from love. Love conquers all – says Grażyna Garbarczyk.
look: Unexpected guest on the morning news of Polsat. "property control"
The woman overcame successive hardships: first her son's illness, then her husband's death. Another blow fell to the family when it became clear that Mrs. Gracina had cervical cancer.
– For me it was a shock. I always said, "God, you are so unfair. It is enough that I have a child, and you still bore me with such a disease." There was a question: "Why me?" But then I realized it wasn't just me. You see a lot of young people in the clinic. Sometimes a person is afraid: God forbid, if something happens, if I die. What would this kid do without me? He can see from me that something is wrong with me. And he asks, "What's wrong with you? Calm down, chill out." And then…he started telling me jokes. It relaxes me all the time. Now he started drawing for me, – explains Mrs. Grażyna.
Expenses exceed the family budget
Mr. Adam sells pictures drawn with his mouth online. The money earned in this way, the man wants to spend on rehabilitation and expensive medicines for his mother. Current expenses exceed the family budget, which is about PLN 4.5 thousand in total.
– Unfortunately, after paying for all the utilities, we are left with so much that we either live in two weeks, or share. Where is the rehabilitation? Where is all this? nothing. We can't afford it. If you want to buy anything, you wonder if you should buy peppers or go buy potatoes – Grażyna Garbarczyk admits.
look: Human production. Rep. Barbara Barto on Law and Justice in the Lab
The situation would have been worse had it not been for the work done by Mr. Adam in Zakladności Zawodowej in the village of Dobra near Szczecin. The man has been working there for ten years.
– First, it is responsible for interdepartmental communication, there are eight of them, and between departments and departments, it carries different things. And he takes care of the floors in our factory, that is, 3500 meters of flat surfaces that have to be cleaned by him. Adam is meticulous, very meticulous, meticulous, positive, optimistic and always ready to work – praises Maria Couric from the communal center of professional activity in Dobra near Szczecin.
– The most important thing is for my mother to be healthier, for me to help my mother. No one loves me like my mother, Mr. Adam assures.
If you would like to help your family, the editors of "Intervention" please contact us at: 22514 41 26 or [email protected].
The video can be watched here.
Igor Sokolovsky / "Intervention"