Private company is the essence of freedom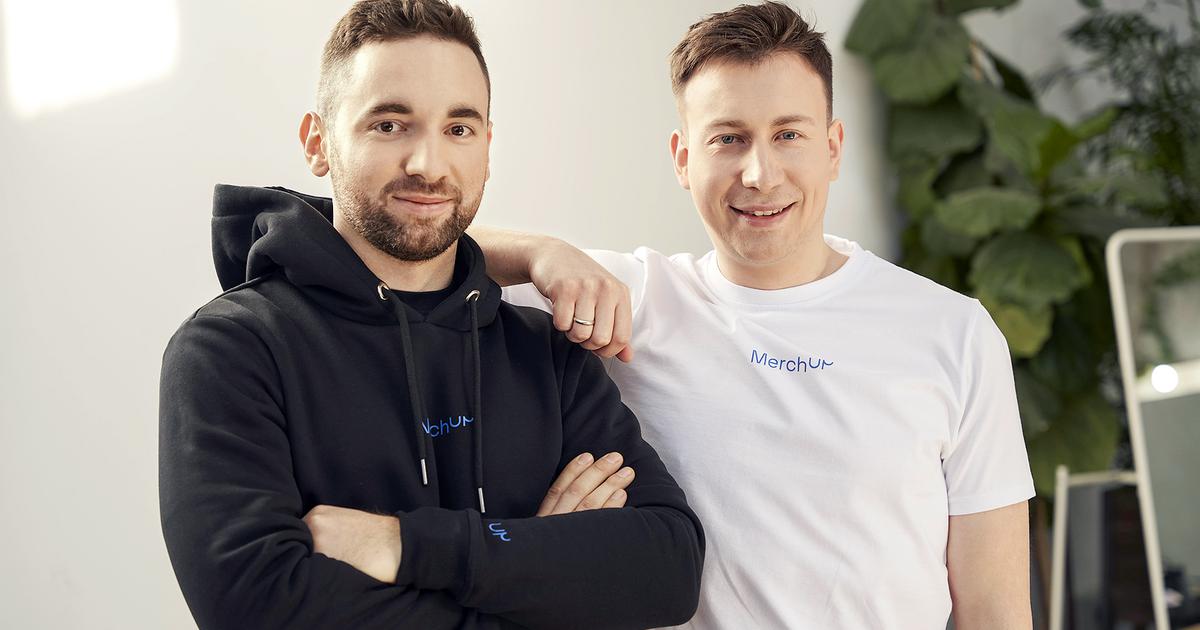 Exactly 10 years ago they sewed blouses for their school, and now they implement about 800 projects a year for Polish and foreign companies. At first, they combined work with studies, and their teachers were podcasts, books, and their own mistakes. In their free time, they play sports to stay motivated to work.
For many young people, vacations after graduation are a time to relax after exams, look for their first job, or choose a field of study. It was different in the case of Aleksander Pacek and Viktor Rostkovsky, who took their first steps in business immediately after graduating from high school. It all started with a desire to get a graduation souvenir. In 2013, they sewed T-shirts with the logo of the high school they attended. They admit that they did not expect such a good reception or where the idea would lead them.
– We created prototypes of jackets thanks to working part-time in the summer. We won 2000 that we can invest. Instead of using poor quality imported t-shirts and simply printing a logo on them, we found a sewing room near Warsaw. A friend who was going to study in this field was engaged in graphic design – says Alexander Baczyk, co-founder of MerchUp (formerly BluzUp).
with my strength
The young entrepreneurs initially sewed sweatshirts for themselves and a few friends, but from the very beginning they focused on developing the business. When their sports T-shirts met the interest of students from the younger grades, they first collected orders from volunteers, and only then sewed blouses for them. Thanks to this, they did not require a large private contribution to get started.
– I remember that we created a fan page on Facebook, thanks to which the word spread about us – the next day we already had 500 likes. 10 years ago, such activities were not yet popular. It showed us that there is potential in our idea. We started at Warsaw Secondary School No. XVII with bilingual departments named after Andrzej Frycz Modrzewski, and after a few months, we already cooperated with schools from all over Poland. In the first year, we completed 30 orders," recalls MerchUp co-founder Victor Rostkowski.
Their blouses cost 100 zlotys at that time.
In a short time, they created a simple website, which they directed to education-related clients, which made it easy to collect orders. They started out under the name BluzUp with support from academic entrepreneurship incubators, but for the first two years they treated the company as a part-time job.
student time
They choose university before starting their business. They chose the Warsaw School of Economics, which – they say – is often the first choice of students of the secondary schools they attend. Even as an undergraduate, they didn't think BluzUp would be their permanent career. They state that they have been developing a line of jerseys for schools and universities, but they have also done extra work. After thinking about it, before getting a master's degree, they come to the conclusion that running a business is what they want to do.
– It was a difficult decision, because we were missing out on the opportunity to expand our professional experience related to the field of study. Running your own business is a huge challenge and learning, but in the eyes of employers it won't be as valuable as a few years in a company or in the marketing department. We were afraid that if the company stopped flourishing, it would be difficult for us to find a job, "Alexander Paczyk admits.
Wiktor Rostkowski also mentions other dilemmas.
– We often wondered whether we should go to study abroad or take advantage of the Erasmus programme. But we were limited by the company in our wishful thinking. We suddenly couldn't leave and do this job remotely — we were the mainstay of it — he says.
initial difficulties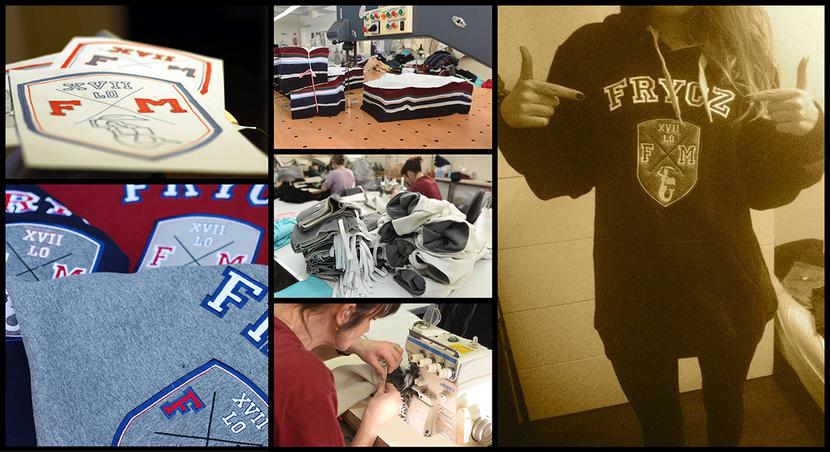 Combining studies with own business is a real challenge, but even more demanding is breaking into an industry they had no idea about.
– We were young and were looking for a sewing room in Poland, because we didn't want to import sweatshirts. We really care about the quality and produce it in the country. That's why we toured sewing factories, and employees and managers looked at us with a pinch of salt. At first, we took everything for granted and believed every word. Now we can see that sometimes we accepted bad financial conditions, which were due to lack of experience. We may have been deceived many times. Every year we learn from our mistakes until we become experts in our field – admits Wiktor Rostkowski.
For the first two years, they did everything themselves. In the third year, a friend helped them – but not full-time – to look for willing schools. In 2016, they rented an office and hired a full-time employee.
Entrepreneurs claim that they get along well from the start. They think this may be because they complement each other with skills and do not factor in their competencies. Aleksander Bacek handles marketing and sales, and Victor Rostkovsky handles operations and finances.
"Personality is also important, and we don't hold grudges. When there is a problem, we exchange opinions and look for a solution, and when we find a solution – we try to move forward. Thanks to this, in more difficult times, such as an epidemic, we are still able to work harmoniously in the company – Wiktor Rostkowski points out.
Without experience, but with success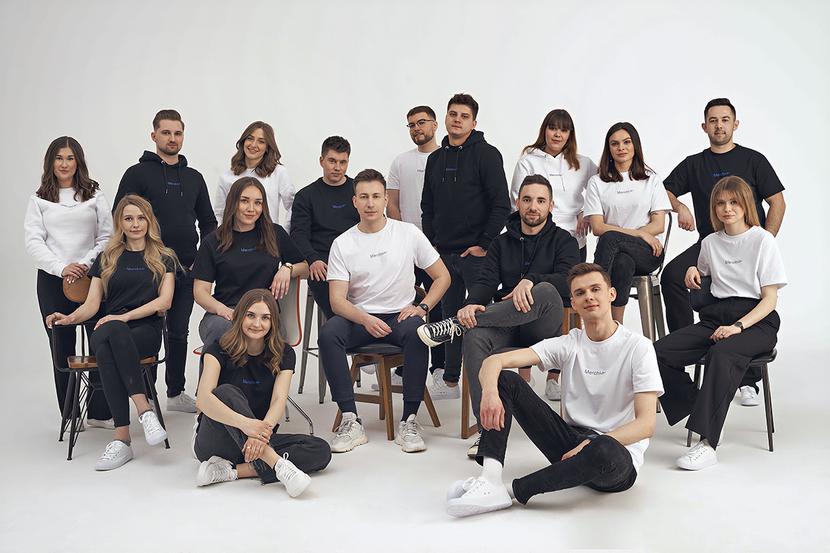 They noted that from the very beginning they made sure that every step they took was profitable. They did not take risky actions that could lead to failure. They believe it has allowed them to advance in small steps.
We didn't make irrational financial decisions. We fund ourselves all the time, and we never had outside investors. Thanks to the fact that at first we did not have any obligations, for example in the form of a family, we could only spend money on business development, – says Alexander Baczyk.
They state that they learned from podcasts and books. They did not have a mentor to introduce them to the business world. Later, they cooperated with consulting and consulting firms.
My parents are entrepreneurs. Therefore, I think that my familiarity with issues related to the management of the company helped us as well. I got the impression that Alexander was born with the character of a businessman, which gave us the wind in our wings, – says Viktor Rostkovsky.
Today, MerchUp consists of 20 specialists, and by the end of 2023 it is planned to hire another 10 people. In addition, the company expands its activities by promoting companies and institutions. In the near future, it plans to enter European markets – and will focus primarily on Germany and the Czech Republic.
– We closed 2020 with revenue of PLN 3 million, recording an almost 10% decrease in sales compared to the previous year, which was caused by the closure of schools and universities. However, we have adapted to the new reality. As a result, in 2021, sales doubled, and we began to expand the offer for a new business client – corporate and institutional. Accessories have been added to the character's outfit, for example bottles, mugs, backpacks and welcome packs ready for the staff. Aleksander Pacek says that the revenue from operations in 2022 amounted to approximately PLN 10 million.
Man does not live by work alone
Business management is the essence of freedom for them, because any idea that comes to their mind they can implement or at least try to collide with reality. They believe that it is more difficult to work full time, because the range of duties is limited. Although they are not yet at the stage where the company's wheels are turning on their own, they are finding time for themselves.
My passion is sports. I do windsurfing, windsurfing, skiing and cycling. Especially the bike with me every day. I treat these forms of physical activity more as relaxation than as an athletic achievement. In addition, it is a way to meet someone from outside the work area – says Aleksandar Bacik.
Wiktor Rostkowski sees sport as a stepping stone from everyday life and calming down after a long day's work.
– Now I find time to squash. Recently, my family has grown, so I am basically completing myself as a little dad. However, I believe that sports help maintain a positive emotional state. I remember a time when I didn't train at all. I felt uncomfortable both physically and mentally. He adds that sport allows you to get rid of the emotional load – the body gets tired, but the mind rests.
As people who started their own businesses at a young age, the creators of MerchUp offer advice to budding entrepreneurs. They encourage you to check out the project – start with the lowest possible cost and test it out the best way. They focus on working quickly and sharing an idea with others, not on theorizing.
©℗