NBP banners travel all over Warsaw. They have to "fight propaganda"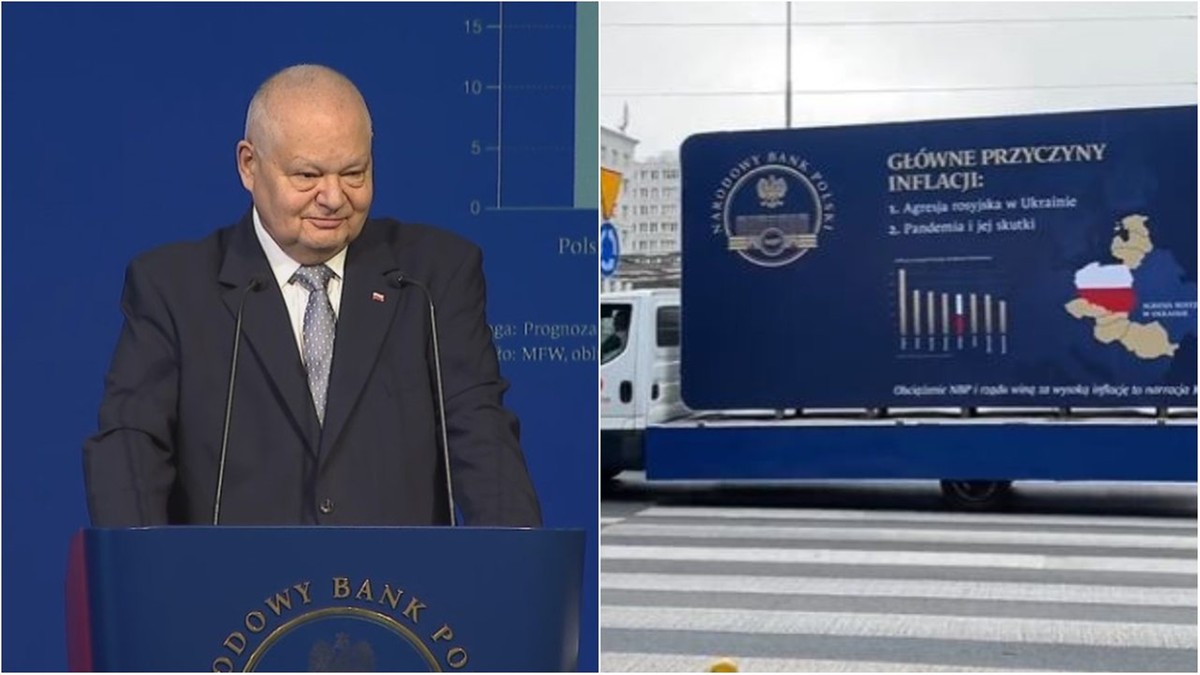 The NBP press office and its head, Adam Glabinski, have repeatedly noted that inflation should not be blamed on the Central Bank of the Republic of Poland.
First, a large banner on the building of the National Bank of Poland, and now cars with billboards on which the institution headed by Adam Glabinski presents its message about increasing prices in stores. The central bank's campaign is gaining momentum, but its press office has not responded, among other things, on how much it will cost. As explained by bank representatives, the measure is "an element of anti-propaganda."
Under Auto Clips pulls the compact version A banner hangs over the main office of the NBP Hundreds of comments appear.
On a billboard, the content of which is the responsibility of the state central bankWe read, among other things, that the cause of inflation in Poland is "Russian aggression in Ukraine" And "The pandemic and its effectsIt was also added, "Blaming the NBP and the government for high inflation is The Kremlin novel.
look: a. Jaroslav Vlas: The government hasn't had so many opponents for years
Polsatnews.pl asked the bank's press office for details of this procedure. Among other things, she did not answer How much does the work cost?How many vehicles with banners took to the streets in any cities outside the capital as well How long will the campaign last?.
NBP: There is a wrong message about the sources of inflation
However, we learned from representatives of the National Bank of Poland that the main goal of the campaign "The main causes of inflation" is "Establishing a correct understanding of the sources of inflation". According to the Communications Department of the Polish National Bank"There is a wrong message In this case what Prefer countries hostile to Poland.
In the face of the widespread misinformation that can be generated As a propaganda element supporting the aims of a foreign power in our country" – it was written.
look: Billion dollar loss of NBP. Bank Vice President Marta Kightley explains
NBP also added in a statement sent to polsatnews.pl, "Inflation in Poland is falling rapidly, as predicted by NBP, thanks to the activities of the NBP and the Monetary Policy Board. However, the general correct understanding of the sources of these processes is Closely related to NBP task performance" – a favour.
A PSL parliamentarian responded to an article published by polsatnews.pl about the Central Bank's crackdown Jacob Stefaniak. "I made an inquiry about the cost of this circus," he wrote on Twitter.
Inflation in Poland In April it was 14.7 percent. On an annual basis – calculated by the Central Statistical Office. Compared to March, prices increased by 0.7 percent.
mjo/wka/Polsatnews.pl