Most bikes are stolen in these areas. Only one in five is cured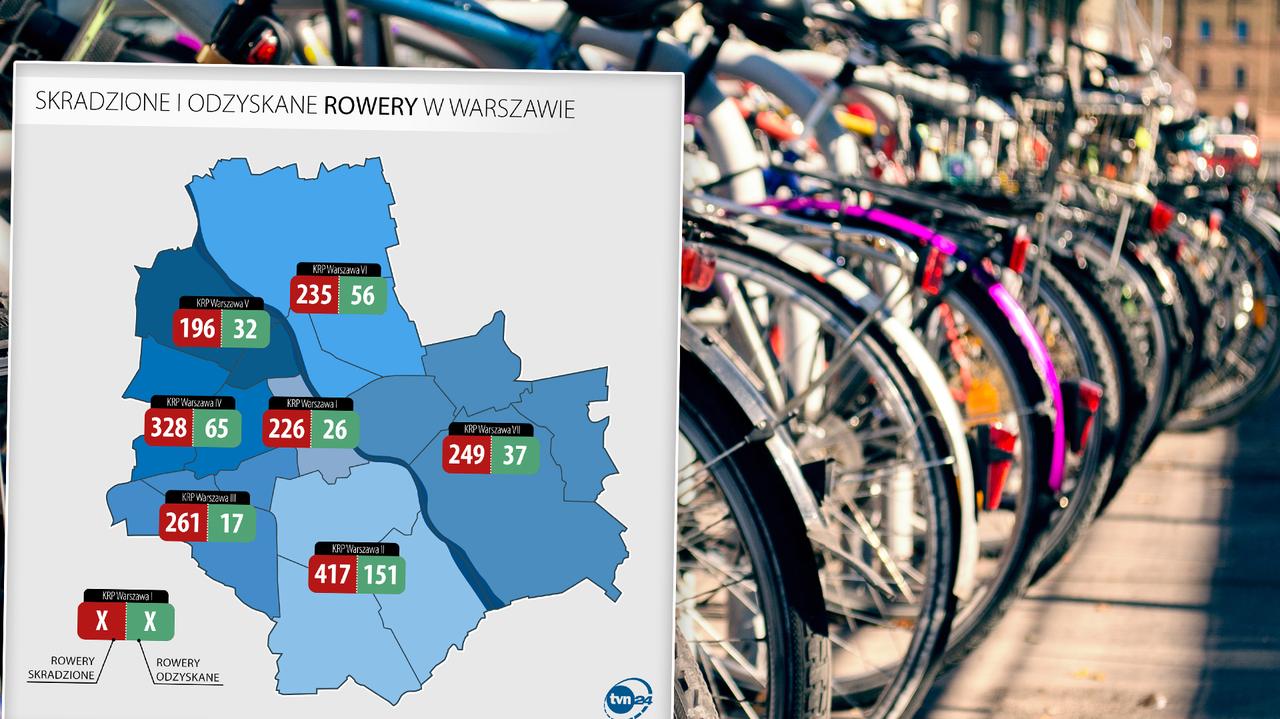 The Metropolitan Police Command provided us with statistics on bicycle theft in Warsaw. It was found that nearly 2,000 such crimes were reported within 16 months. The officers remind you of the rules that must be followed in order not to get robbed.
Police statistics leave no illusions: bicycles disappear in Warsaw's backyards, basements or balconies. This is especially the case in the spring and summer, when the activity of criminals involved in two-wheeler theft is intensified.
Bikes also disappear from garages and basements, i.e. places where they've been left for the longest time. But at this time of year, owners of two-wheelers parked, for example, in front of the building, would also report to the police. – We must remember the proper protection. It must be adequately priced and qualitatively for the value of the bike – emphasized in an interview with tvnwarszawa.pl the spokesman for the Police Command of the 1st Warsaw District, Robert Szumata.
In turn, Iona Kijowska of KRP Warszawa II noted that "police experience clearly shows that most thefts are a matter of chance". The policewoman said: – The thief is interested in bicycles that are not safe or have low-quality protection, for example a steel cable.
Most of the thefts are in Mokotów, Ursynów and Wilanów
The Warsaw Police Command provided us with statistics covering the entire past year and four months of 2023. Over the past 16 months, police officers recorded 1,925 bicycle thefts in the city, which means an average of four bicycles are lost every day. The largest number of crimes of this kind was recorded by the Warsaw 2nd District Police Headquarters covering Mokoto, Ursino and Wilanow district. In 2022, 361 thefts were confirmed here, and from January to April 2023 – another 56 thefts. In this area, police officers can boast of having caught a total of 151 thieves.
In Wola and Bemowo, 328 bicycle thefts were registered (273 in 2022 and 55 in 2023), and 65 were detected. In Ochota, Włochy and Ursus, 261 crimes of this kind were confirmed (217 and 44), only 17 were detected. In KRP VII – covering Praga Południe, Wawer, Rembertów and Wesoła – officers recorded 249 two-wheeled thefts (217 and 32), detected – 37. In turn, in Praga Boynok, Targovik and Piašoka, there were a total of 235 successful thefts (194 and 41 ) and 56 cases of "settlement", and in Ordmeysky, 226 offenses were confirmed (189 and 37), but only 26 offenses were discovered.
Police officers from Żoliborz and Bielany confirmed the lowest number of thefts – 196 (152 and 44). A total of 32 bike thefts have been discovered in the area over the past 16 months.
Cases of theft are dealt with not only by district orders. KSP also provides data from the railway station, where police officers confirmed nine crimes that they managed to detect – three. There are also statistics from the investigations department – four thefts were reported, of which three were detected.
How do you protect yourself from theft?
To avoid being ripped off, there are a few rules to follow. The bike must be attached to a permanent item, for example a building, fence, railing or stand with a rigid rope, locked with a combination or key. The safety cable should be passed through the bike frame, not through the wheel, which makes it easier to loosen. In addition, police officers are advised to put only familiar markings on bike parts. This can be done in the machine shop. A good solution would also be to repaint part of the frame or mark the so-called. Secret text, i.e. special tags that allow identification. These marks are only visible in ultraviolet light.
Police officers also warn people who plan to buy a bike outside the store. It is absolutely essential to check its serial numbers, which are usually stamped on the frame below, and compare them with those entered on the warranty card. If the price offered for the bike is too low, and the seller doesn't have any documents for it and we don't know about it, then the deal should be abandoned. When it turns out that we purchased a bike from crime, we can be held responsible for receiving receipts.
Main image source: Shutterstock, KSP/tvn24.pl