"I receive the medal and spend the night with my son in the emergency room." titled Runner Talks About Being a Mother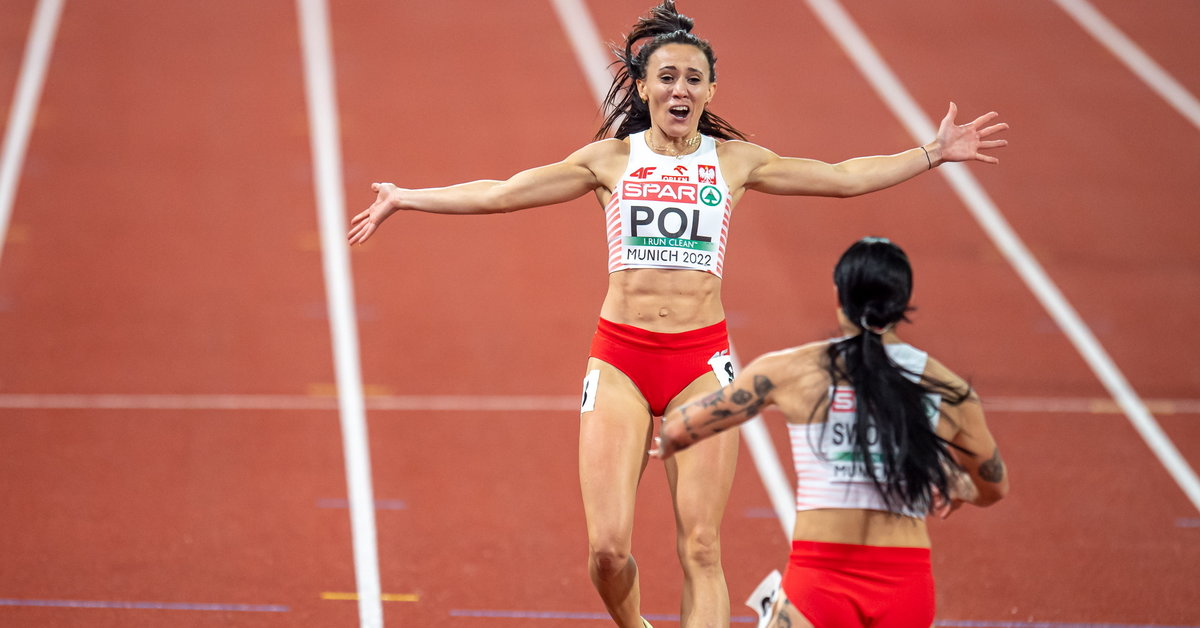 Tomasz Moczerniuk: Warm-up question: How many years have you been running and who instilled in you a passion for this discipline?
Marika Popović-Drapaja: This year I started my 23rd year of professional coaching, but I took part in my first competition in 1999. My father instilled in me a passion for sports. In our family home, sport was the order of the day. We cheered the Polish players at the most important competitions, and watched the Olympic Games. My father took me to the highway and football fields since I was a child, and I participated in sports competitions in various disciplines at school. It soon became clear that I had no equal in running. I've won cross country running, triathlons, quad track and field events.
Once I had a bronze medal in Wielkopolska County in the 100-meter race, I ran on the field in Piła in … ordinary sneakers. My then physical education teacher signaled to my parents that it was time to do something with this talent. This is how I came to Zawisza Bydgoszcz under coach Jacek Lewandowski. Sometimes I think it just happened. Being 12 years old, I didn't think of running as a passion, but rather as an adventure. I went to contests, won, met new people, got my name in the local papers, all of which built the self-confidence of a young girl from a small village.
But you were born in Gniezno. Are you more famous than Misko I?
My favorite saying is: "I'm from Gniezno, nobody knows me." (He laughed). Seriously, I was born in Gniezno, but I grew up in Kruchów near Trzemeszno and I am mainly associated with these cities. My parents and family still live in Kruchów, Trzemeszno never forgets about me and always sends a lot of congratulations after successful competitions. I am glad and happy that my people have still supported me for so many years, and I try never to forget where I came from.
Together with our peers from Kruchów, we spent every free moment in the yard: we rode bicycles, played football, volleyball, in what is called fluff or played tag. We even played cards on the run. The loser walked around the blocks (laughs).
It's almost like training in the army! Speaking of military service, what has life as a professional soldier taught you?
Being a soldier on the Central Military Sports Team is not only a great pride, but also a great responsibility. Indeed, sports and the army have a lot in common, and patriotism is only one of them. Diligence, stubbornness, striving for the goal, courage and fearlessness are just some of the soldier's traits that are useful in the world of sports, but not only.
As a child, did you think that your career would be colorful and full of achievements?
of course not. I wasn't thinking of any "career". Anyway, I don't like this word. It's kind of negative in my head. As a kid, I had a lot of fun. Today I would say that sports have simply become my way of life.
You have an impressive number of medals – almost 60. Where do you store it and do you remember your first medal?
I don't have a single cup slot. Keep fresh foods in…a drawer. But I do have a little ritual that I hang the medals I won in one year next to my bed and when I start preparations for the next season, I solemnly hide them in a drawer. I always laugh that it's kind of sports New Year's Eve in October.
And my first medal? I remember of course. He was in Siedlce at the Polish Junior Championships. You won the 100-meter race by 0.01 seconds. It was like a dream. A skinny girl from little Kruchów is a Polish heroine. amazing! The next day I added gold in the 300m and then I felt it made sense, maybe people were right and I had the talent. These medals had another value: they calmed my longing for home and parents, because I moved to Bydgoszcz at the age of 13. In my freshman year, I missed it terribly.
You also have an important government award. What does the Cross of Merit that you received in 2010 mean to you?
All honors and awards are a very nice addition to our work, but to be honest, such awards make me a little nervous. I'm glad I can represent my country on the international stage and maybe bring some joy to the fans, but I always think I'm not doing anything extraordinary after all. I have a feeling that people are doing great things, saving people's lives, giving alms, etc., and they deserve such accolades. I'm just trying to do my thing.
In an interview, you also said that Ignacy is also your little medal. You've told us many times how difficult it is to combine being a mom with playing competitive sports. What is the biggest challenge?
I believe in finding a balance between being a mother and being an athlete. For me, this is the key word. Athletes are usually perfectionists. They feature carefully arranged training plans, filled-in calendars, and planned biorenewal and regeneration. Motherhood turned it upside down, I wanted to be the woman of today – a superhero who perfectly combines different roles, is successful professionally and accomplishes impossible things, because there are only 24 hours in a day.
But at some point I hit a wall. There were days when I would go for lashes. I would come home after training and without a shower I would fall asleep at 8 p.m. beside my son's bed. Then I called the coach and said, "I can't do that." There was no option for something like this to slash down my throat, but motherhood taught me to let it go and loosen up.
However, wasn't it easy?
You know… I was bombarded with remorse all over. Instead of training, you can go for a walk, read another book to your son, or cut back on camp and be with him at nativity plays. You have a sense of perpetual inferiority in both parenting and sports. In addition, there is a state of constant exhaustion and lack of sleep, and ultimately regeneration is the basis in sports. At the finish line, no one asks if your child had a 40-degree fever in the evening that kept you up all night. At the finish line, the score matters.
Motherhood many sacrifices?
Yes. I had a situation like this once during the indoor vice in 2020. Before the 60m finish I was looking for Ignacy, but I don't see him in the stands. I already know something is going on. There are nerves, but I get into the starting point, run and win. I am happy, but there is one thought in my head: what happened to my child? It turned out that Igni had acute laryngitis. I get the medal and spend the night with my son in the emergency room of Toruń Hospital. We leave in the morning.
At home, having breakfast, I realize I'm still sitting on top of the race and have a pinned number. I called my coach to let him know that I wouldn't be competing in the 200m. But is there anything more wonderful than when women's dreams come true? Can you hug them, take them in your arms? Igni is actually my Olympic gold medalist, with the difference that he doesn't lie in the wardrobe, but wakes me up every day with his gentle laughter and crackling feet. And even though it costs me a lot of work, I love watching it get stronger.
What is your advice to female athletes who are considering motherhood but are hesitating?
Let them trust their intuition, but it's worth having a plan. Or maybe two plans. One posits a plan to return to the sport and the other in case it doesn't work out. And it is worth having people help us: the family, the nanny, and even a psychologist.
How will you celebrate Mother's Day?
I think we celebrate Mother's Day and Children's Day almost every day! I get the impression that we are trying to spend time together very quality. We tell each other every day how much we love each other. There is probably no day when I don't tell Ignacy how happy I am that I am his mother and he is my son. Of course, all of this is always accompanied by lots of hugs and lots of laughter, but it does make us build a sweet bond that I hope will last for years.
How long after you started talking to Ignas and what did those conversations look like?
Everything, of course, depends on the time of the competition. I really like his childlike honesty and when he says – quite seriously – "Mom, you can always run faster." Once—immediately after I put 3rd on the HMP—he yelled in a not so forceful way, "You know, I don't like No. 3, I like 4." (He laughed)
Has Ignaś started running yet? It's in his genes!
He runs fast, but he doesn't like to get tired (laughs). At the moment, the scooter definitely wins in running.
On social networks, you can tag #ubuntu. Can you explain why?
Ubuntu is an African ideology and ethical system that focuses on human relations. In Polish we can translate it: "I am because you are". I once saw a movie about this philosophy, which really touched me. There are moments when this ideology seemed very close to me.
What is your favorite color and flower?
This seems like a simple question, but I'm having a hard time finding one answer. The colors are definitely green and blue, and I really love the tulips and peonies.
What kind of music do you listen to every day and what before you start?
Oh, really so different! On a daily basis, I have a whole bunch of songs: from the oldies to the latest radio hits, but before the start I often reach for an OSTR that I know, I know, no one expected. (He laughed)