Glovo invests in Polish expansion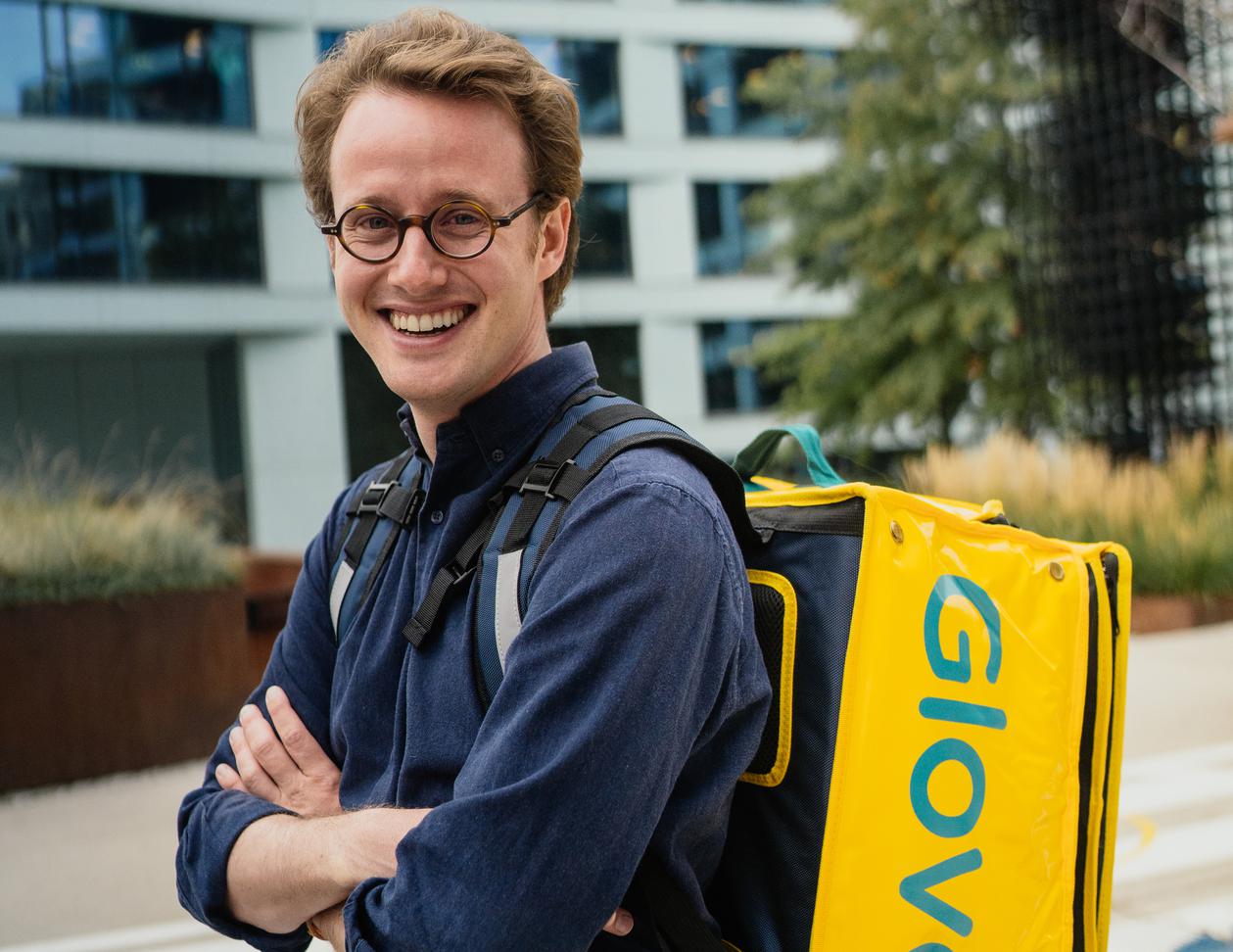 International companies are behind the delivery of food to Poles' homes. The largest platform in the domestic market is Pyszne.pl, which belongs to the Dutch-British group Just East Takeaway.com. Runner-up is German Delivery Hero-controlled Glovo, and third is US Uber Eats.
Courier company Stava estimates that PLN 8.78 billion was spent on meal deliveries in Poland last year, of which PLN 3.64 billion was spent on online orders. This means an increase in the online channel by about 20%. Staffa predicts that the high dynamics will continue in the coming years, and in 2026 the Internet will be responsible for half of all food orders.
Good prospects – despite the temporary economic downturn – make existing players in the market invest in expansion and expand their reach. Glovo says that in its app you can place orders for more than 14,000 people. companies from the food and commercial industries, which means an annual increase of 40 percent.
– We have become the largest platform in Poland in terms of the number of partners in gastronomy and trade in just over three years of entering the market. However, in our industry it is not just about being number one nationally – given the nature of purchasing, the goal should be to be a leader in every city and in every region – says Carlos Silvan, Glovo's general manager in Poland.
measure before profitability
Glovo appeared in Poland in 2019, when it bought the PizzaPortal.pl platform from the AmRest restaurant group for 35 million euros. Glovo originated in Spain and has been operating since 2015, then it was acquired by the German Delivery Hero group.
The company's financial statements for 2022 are not yet available. It is known that the previous year generated just over PLN 100 million in revenue from commissions on orders and had an operating loss roughly equal to revenue.
– In Poland, we are still in the investment phase, so there is no pressure to achieve profitability in the short term. Of course, that doesn't mean we're mindlessly burning money, the company is profitable at an EBITDA level in some key markets. However, we have a long-term expansion strategy in place, Poland is one of the priority markets for Glovo and we mainly focus on expanding supply. "We are currently partners of about a quarter of restaurants in Poland, and we can significantly increase our share," says Carlos Silvan.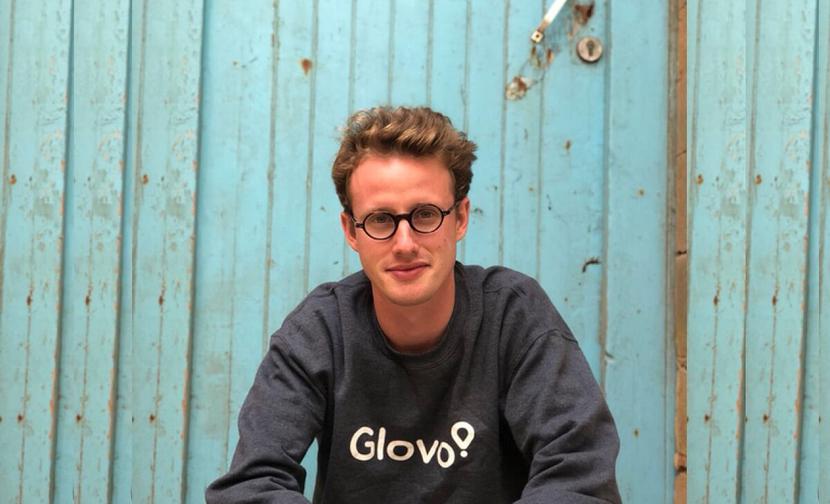 Fast Trade Fashion
Glovo mainly deals with orders from restaurants, but is rapidly developing a second business stage, express delivery of purchases in stores, the so-called. Quick trade. At the end of 2021, in collaboration with Biedronka, it launched the BIEK service, offering 12-minute delivery of purchases from the discount offer.
"We are very focused on e-commerce, and we want BIEK to double its range in the next six to twelve months," declared Carlos Silvan.
In Poland's fast-trading sector, several international and local players emerged in the last phase of the pandemic, but a few – such as Swyft and Jokr – quickly pulled out. Glovo is currently competing with, among others, the Jush application offered by the Żabka Group, as well as with the application supported for example by the Sebastian Kolczyk Fund with startup Leszek.
Tomasz Blicharski, vice president of Żabka, recently told PB that purely online players in express commerce cannot be price competitive because they do not have the appropriate purchasing power, and most retail chains are not enthusiastic about developing these services because they break up their regular sales. This is why he announced that ABKA will be the undisputed leader of this market in the long term.
– abka is, of course, a serious competitor whose strength is a large flat-line network. However, we also have our strengths: a strong couriers network of about 10,000 couriers. People, and an ever-evolving technology platform. We want to provide an app where the consumer can find everything they need – from meals and grocery shopping to other assortments or flowers for example. The scope of the offer is to ensure that customers regularly return to shopping at Glovo – in Poland more than 5 million people have already downloaded our app – says Carlos Silvan.
Through the eye of an expert
Stock change in prospective market
Paul Axmit
Head of Staffa courier, which specializes in meal delivery and in-store shopping
Although the mood in the catering industry is still not the best after the epidemic, the food delivery market definitely has interesting development prospects in the future. According to our projections, in four years the value of shopping and food delivery alone will reach PLN 12.6 billion. The segment of the segment related to online orders will grow by approximately 87 percent. – From PLN 3.6 billion at the end of 2022 to PLN 6.7 billion in 2027. Pyszne.pl, Uber Eats or private delivery channels. The only platform that increased its market share last year, by 6.4 percent, was Glovo. Despite these changes, Pyszne.pl is still the leader in terms of the number of completed orders. It is worth emphasizing that an increase in the number of deliveries does not always mean an increase in billings.
market adjustments
Staffa experts estimate that last year Glovo's share in the Polish online food ordering market was 17.4 percent. This means that within a year, the platform has moved up from third place to second place, overtaking Uber Eats. Pyszne.pl has more than twice its share (38.9%).
– In 2022, according to our estimates, we will be the leader in Poland in terms of the pace of increasing our market share. our GMVs [łączna wartość towarów i usług sprzedanych za pośrednictwem platformy — red.] It jumped more than 60 percent. This year we also expect high dynamics, although the development of our entire industry is stabilizing. The value of the shopping cart is increasing due to inflation, but we see that there are slightly fewer statistical customer orders for products than before, and more price-sensitive consumers are also reducing the number of orders – says the general manager of Glovo in Poland.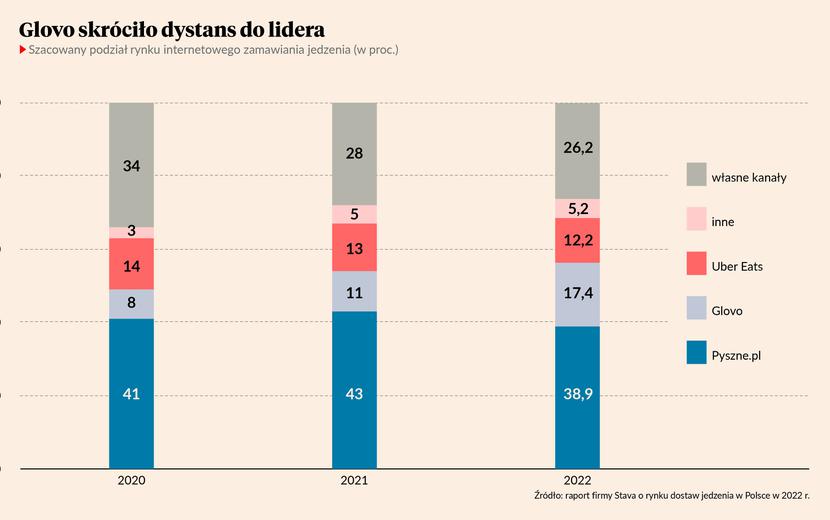 The poor economic situation is reflected not only in orders. The wage demands of carriers are getting higher and louder in the industry. At the beginning of February, an unofficial strike was organized by some of the people who provided meals for Pyszne.pl, although the company had announced a salary increase in November. Directive to regulate terms and conditions of employment Catering couriers work with the European Commission.
– In any company where logistics operations are the foundation of the business, relationships with carriers are a challenge. Since the outbreak of the epidemic, we have gradually increased salaries above the minimum wage. We also use our technology to improve courier routes and shorten the waiting time for orders in stores or restaurants, which increases business efficiency and increases carrier wages. In order to attract employees, we have also invested in e-learning platforms that delivery companies can use for free, thus preparing for the next step in their careers, says Carlos Silvan.